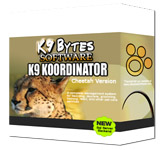 Download our K9 Bytes® K9 Koordinator LITE version for a 30-day trial. The demo

is a fully functional copy of the software. Experience for yourself the user-friendly and powerful control that the K9 Koordinator has to offer by downloading our demo. Please do not hesitate to contact us with any questions.

Please take advantage of our FREE LIVE demo services before downloading the trial version. The LIVE demo will give you a quick tutorial on how to use most basic functions of the program!
K9 Koordinator Installation Instructions
1. Download and read the quick set up instructions. Do not skip this step, in this document you will find necessary login information!
2. We highly recommend taking advantage of our FREE LIVE demo before using the program. This is a great wait to quickly learn all the basic operations from one of our sales specialists. After a live demo session you will be able to download a fully-functional copy of the program and use it in your computer for 30 days.
3. Download the installation file:
* Other pet care services refer to boarding, daycare, pet training, and similar features.
** The 30 day demo is a fully functional copy of the K9 Koordinator LITE. If the demo expires and you need additional days to evaluate the software, please contact us