Are you a new K9 Bytes® client (considering our software, wants additional information,etc)? To create a new client account click the following link Create New Client Profile. If you already purchased a K9 Bytes® product please contact us to get your account information.
Live Demo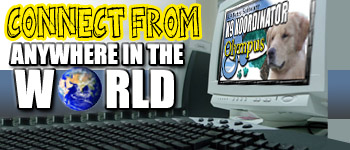 A live demo is an online demonstration where you connect to our computer using the Internet. Together we set up a time, and we call you. Just sit down and relax while we show you the basic features of our programs. We will also answer any questions you might have. K9 Bytes® Software is the first and only pet care software company to offer such service for free. Live demos can cover any of our software systems and features, including boarding, daycare, grooming, training, services, pet sitting, and dog walking, among many others. You have a question? We will have an answer.

Watch us operate the system live, from the comfort of your own home. You can ask questions and we can talk about specific needs in your kennel. Schedule a demo for the latest version of the K9 Koordinator, our state-of-the-art Daycare Kiosk System, or any of our software packages.
Are you a new client? Interested in a Live Demo or Additional Product Information?
The fastest way to get in touch with our sales representatives is to use our state-of-the-art Customer Relations Management (CRM) system. The CRM allows you to create a new client profile. Once a profile is created you will receive an email confirmation with the details of the sales representative assigned to your account. The sales representative will contact you to coordinate live demos and provide you with any infomartion you might require. The live demo is a service completely free of charge. You only need a high speed internet connection, and we will spend as much time with you as you need. We will give you a virtual tour through any of our software packages. Hope to hear from you soon!